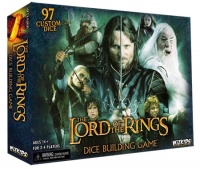 WizKids delves into the world of J.R.R. Tolkein's Middle-earth once again with their second "dice building" game. The Lord of the Rings Dice Building Game uses custom-designed dice to represent armies of Men, Dwarves, Elves, and Hobbits battling against the forces of Sauron. The new game is scheduled to release in January 2013.
The new dice building game is based on the game mechanics that first appeared in WizKids' Quarriors! game, designed by Mike Elliott and Eric Lang. The Middle-earth themed version was developed by Jeph Stahl and Brett Myers.
Quarriors! designer Elliott described the adaptation of the mechanic in the announcement. "Fans of Quarriors will readily recognize the dice building mechanic…," he said, "but The Lord of the Rings Dice Building Game explores a few key elements that make it an entirely new experience out of the box," according to Elliott.
Quarriors
continues to receive support as well, with a third expansion set planned for October of this year (see "
New 'Quarriors!' Expansion
").