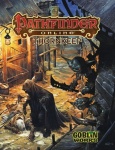 The upcoming Pathfinder Online MMO will be supported by two pen-and-paper role-playing supplements, which Paizo Publishing plans to release in January. Pathfinder Online: Thornkeep will be a campaign module, while the Pathfinder Flip Mat Thornkeep 2-Pack provides game maps for use with the book.
Pathfinder Online: Thornkeep, a 96-page, full color softcover sourcebook, will present one of the towns featured in the MMO and some of the dungeons below the city. It also gives players hints about some of the characters and environment from the MMO. The book includes five dungeon levels, designed by some of the biggest names in role-playing writing: Richard Baker, Jason Bulmahn, Ed Greenwood, James Jacobs, and Erik Mona. Suggested retail price: $24.99.
The
Pathfinder Flip Mat Thornkeep 2-Pack
includes two double-sided dungeon maps, scaled for use with miniatures. They can be used with the dungeons described in the
Thornkeep
sourcebook, or modified for use with gamemasters' own creations. The maps measure 24 by 30 inches, and are coated for use with dry-erase and wet-erase markers. Suggested retail price: $24.99.
Both products are linked to the online
Pathfinder
computer game being developed by Goblinworks. They were both originally created as a reward for supporters of the MMO project on Kickstarter, which gathered over $300,000 in funding for the project. They are now being offered through normal retail channels. Goblinworks has been developing the property since late 2011 (see "
Goblinworks Gets 'Pathfinder''
").