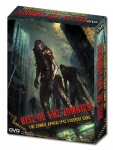 Dan Verssen Games, better known for its line of historical wargames, will add to the growing horde of zombie-themed games next January with its new Rise of the Zombies card game.
This semi-cooperative game casts up to eight players in the role of normal people thrust into a world filled with zombies. The players must work together to cross the city and reach the rescue helicopter, earning experience as they go by killing zombies. The twist in this now-familiar storyline comes in the form of a digital timer, making this a real time survival game. Players can choose their difficulty by setting the timer for 30 to 90 minutes.
Rise of the Zombies includes 168 game cards, two dice, eight plastic stands for the survivors, a sheet of counters, and a zombie green digital timer. The suggested retail price will be $39.99.
Rise of the Zombies collected nearly $5000 worth of pledged support on Kickstarter with a goal of $2000.
--William Niebling