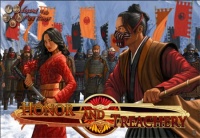 AEG has announced plans to release a new "learn to play" companion set for the current "Emperor Edition Arc." Honor and Treachery will release in December 2012.
The two-player set features the Scorpion and Phoenix clans, and focuses on the events surrounding the "War of the Twins." The set includes two complete pre-built decks, using the Emperor format. Both decks also include exclusive cards unique to those clans.
In addition to the card decks, the set has deck boxes for the two clans, a 64-page booklet describing the in-game story, and an illustrated rulebook designed to teach the game to new players.
Honor and Treachery will be fully compatible with the reprinted Emperor Edition: Gempukku, scheduled to release in December or January.