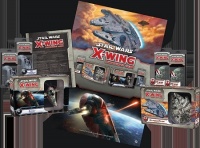 Fantasy Flight Games is offering retailers a preview kit for Wave 2 of the
Star Wars X-Wing Miniatures Game
(see "
Wave 2 for FFG's 'Star Wars X-Wing Miniatures Game'
"). Shipments have been delayed until an unspecified date in early 2013, so FFG is flying in limited quantities to support this preview event. The Kessel Run preview event will be held December 14-16; retailers must apply online by November 15th.
Kits include a Millenium Falcon Expansion Pack, a Slave Expansion Pack, two A-Wing Expansion Packs, two TIE Interceptor Expansion Packs, a promo poster and an instructional letter on how to run the event.
Players will compete with their own 100-point squadrons through Swiss-style preliminary rounds. In the final round, the two top players will use preview squads built from the event kits. The top four winners will get to claim one of the preview expansions. The remaining two ships go to the organizer.
FFG also offers X-Wing Game Night Kits to support the game; they can be run as casual leagues, informal open play events, competitive leagues, or as one-day tournaments.