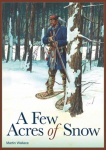 Game publisher Asmodee has announced a new agreement with designer Martin Wallace to distribute the second edition of his A Few Acres of Snow in the United States starting in January, 2013. The agreement was negotiated at the Spiel fair in Essen.
Last spring, Asmodee had announced plans to release a different game using the mechanics of
A Few Acres of Snow
and also designed by Wallace (see "
Asmodee to Publish New Martin Wallace
"). The original version of the game was distributed by Mayfair Games in the US (see "
'A Few Acres of Snow'
").
A Few Acres of Snow is based on the century of conflict between the French and the British in North America. The game design combines the popular "deck building" mechanic with a more traditional area control war game. The suggested retail price for the new edition will be $49.99.