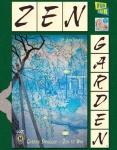 Mayfair Games will release Zen Garden, a tile game designed by Jean Vanaise, on February 21. The $15.00 game for two to four players aged ten and up, can be played in 15 to 30 or more minutes, depending on the version of the rules used.
The basic game is a tile-matching game in which players try to form their pattern on the board before their opponents. In the more challenging Rock Garden rules, players try to play their 12 cubes on sets of matching sets of tiles before their opponents.
Zen Garden includes 84 garden tiles, 12 lantern tiles, 48 wooden cubes, a cloth bag, and rules.