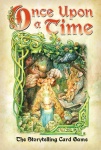 Once Upon a Time
Publisher: Atlas Games
Release Date: October 2012
MSRP: $24.95
Number of Players: 2 to 6
Playing Time: 20 to 40 minutes
Age Rating: 8 and up
Product #: AG1030
ICv2 Rating: 3.5 Stars out of 5
Once Upon a Time has been a staple in Atlas Games' product line since its release in 1993, and rightly so. It's a simple little game, suitable for all ages and attractively packaged. It was chosen as a Games Magazine "Best Family Card Game" in 1997, and has been translated into multiple languages. Once Upon a Time is now available in its third edition, featuring new artwork and a revamped card list.
Summary: Truth be told, Once Upon a Time is more "competitive story-telling" than "card game." First, you draw a secret "Ending Card" that tells you how YOU want the story to end, such as "So they escaped their captors and fled home." Then, you receive a hand of "Story Cards," each featuring an element common in fairy tales. These might be characters, such as "Queen" or "Dragon," objects like "Book" or "Key," events such as "Meeting" or "Someone is Hurt," or even themes such as "Stolen" or "Brave."
One player then begins telling a story, trying to create a tale that will result in his secret "Ending Card." Every time he mentions an item shown on one of his cards, he places the card face up on the table. Only after playing all of his cards can he bring the story to an end and play his "Ending" card. The other players must listen to the teller's tale, because if he mentions an object on one of THEIR cards, that card can be played to "interrupt" the story. The interrupting player then gets to take over telling the tale, playing cards and hopefully reaching the desired ending.
Originality: There have been a number of story-telling games, but I think that Once Upon a Time is one of the best. The use of story element cards to interrupt the tale and take over as the storyteller works great. The items on the cards are broad and represent ideas that are easy to grasp and familiar to anyone who has enjoyed fairy tales as a child. There are no unnecessary complications to the flow of the game, and it plays quickly to a conclusion in just a few minutes.
Presentation: The new edition features superb artwork by children's book illustrator Omar Rayyan that is very evocative of the fairy tale theme of the game. The game box is of the style commonly used for computer games, with a sturdy cardboard sleeve open at both ends and packed tightly into a thin box. The front of the box has a book flap which can be opened to reveal a large sample of Rayyan's artwork, which is also reproduced on the backs of the cards. The whole fits perfectly on a bookshelf, and is large enough that it isn't lost among larger items. On the down side, it does result in a box that is at least twice as large as it needs to be for the components inside.
Quality: All told, the production values are excellent for a card game. The cards are good quality and feel sturdy, without being too stiff to shuffle. The rules are well-written, and attractively presented on a full-color glossy rules sheet.
Marketability: This is a great game for families with children, and it has excellent potential as an educational tool. It also makes a good party activity, offering a lot of potential for laughs as the players struggle to work their cards into a fairy tale of ever-growing complexity. However, it has a steep price point considering that it is little more than 165 cards in a box.
Overall: The mileage that a group will get from Once Upon a Time is going to vary a great deal. With the right group of people, who can set aside their reluctance to speak in public and really get into the story telling element of the game, it can be a real blast.
With the wrong group, however, it simply does not work well. Players that are too self-conscious or who have trouble telling stories off the top of their head are not going to have a great time. Since there is really very little "game" to hold things together mechanically, the success or failure of the game is going to come down to the story telling abilities of the people playing, and their willingness to go out on a limb and tell bad stories badly.
Once Upon a Time can be a great tool to practice storytelling and public speaking, making it an excellent choice for educators or, believe it or not, role playing gamers trying to improve their ability to think on their feet.
The high price point and the need for the right kind of players are both knocks against what is otherwise an excellent and well-produced game. For that reason, I give this game 3-1/2 out of 5.

--William Niebling