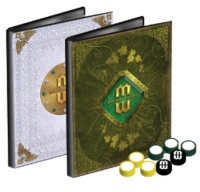 Arcane Wonders will release two new products this month. A Spellbook Pack will include two new custom spellbooks: white and gold for the Priestess, and green and gold for the cheesehead, er, Beastmaster.
Arcane Wonders will also release a 4-player Action Marker Pack, which will include two new colors of action markers (green and yellow), for use when playing multi-player games.
No retail prices for either product have been announced at this time.