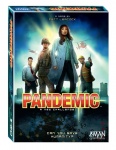 Z-man Games has announced a major 2013 program around a new edition of its hit cooperative game Pandemic. The program kicks off with the core game, which will get a new, more modern look with artwork by Chris Quilliams (Clash of Cultures, Merchants & Marauders). Two new characters, the Contingency Planner and the Quarantine Specialist, have been added. The 2nd edition of Pandemic will street in February.
A new version of the expansion On the Brink will also be released soon, with the new look. A compatibility pack will be available for purchase for those that want to play the new edition of On the Brink with the first edition of the core game.
And later in the year a new expansion, In the Lab, will be released. Play will take place inside a biotechnology lab, where players will search for a cure.
The first edition of Pandemic has sold hundreds of thousands of copies worldwide in 14 languages, and had distribution through specialty retail and mass merchant channels such as Barnes & Noble, Toys R Us, and Target.