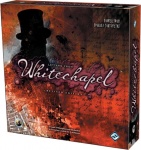 Fantasy Flight Games has announced the second quarter 2013 release of a newly revised edition of the Jack-the-Ripper-themed board game Letters from Whitechapel (MSRP $59.95) designed by Gabriele Mari and Gianluca Santopietro. Letters from Whitechapel is a game of deduction and bluffing in which one player takes on the role of Jack the Ripper, while up to five other players portray detectives working together to pursue the notorious serial killer through the streets of Victorian London.
Played over four rounds, Letters from Whitechapel is an engrossing game of cat-and-mouse. Each turn the player controlling Jack selects a victim, murders her, and then attempts to flee to his secret hideout before any of the investigators can apprehend him.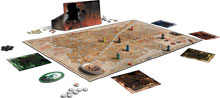 The revised edition of
Letters from Whitechapel
includes numerous changes from the edition that was previously released here (briefly) by Nexus Games in 2011 (see "
Nexus Games R.I.P
."). The changes, which all result from player feedback, include major improvements to the "Jack the Ripper" screen allowing the player controlling Jack to better hide his movements and it now also features the chart of Special Movement tokens, which should make consultations with the rulebook less frequent. Other notable changes involve making the women, patrol, and time of crime tokens out of durable wood, color coating plastic markers to make them stand out better, and the Letters' effects are now described in detail on the components themselves, which should eliminate a few more consultations with the rulebook.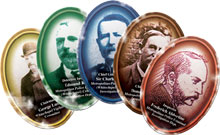 The deluxe
Letters from Whitechapel
game includes, a deluxe game board, improved Ripper Screen, and rulebook, plus 6 reference sheets, 4 of Jack's letter sheets, 5 investigator tokens, 5 special movement tokens, 16 wooden tokens, 12 wooden pawns, and 27 plastic markers.
The timing of FFG's release of Letters from Whitechapel could hardly be better thanks to the January 19th debut (on BBC America) of Ripper Street, a new 8-part BBC mini-series about the grisly exploits of spring-heeled Jack.