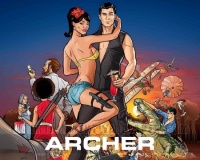 Cryptzoic Entertainment is teaming with the FX network to create a board game based on the network's popular animated spy comedy Archer. The release of the game based on the cult hit dark comedy is tentatively scheduled for the fall of 2013.
Created by Adam Reed, the Archer series premiered on the FX network in January of 2010. The fourth season of Archer, which, although it is a cartoon, carries an adult "TV-MA-LSV" rating, debuted on January 17th. Reed once described the show as "James Bond meets Arrested Development" and the Archer voice cast contains many veterans from AD (Jessica Walter, Jeffrey Tambor, David Cross, and Judy Greer).
The fast-paced, easy to learn Archer Board Game takes its elements directly from the quirky TV series so that players will be able to experience everything they love about the infamous intelligence organization ISIS at the heart of the Archer series including the organization's spy "tradecraft," interagency rivalry, and most importantly, how to sabotage your co-workers' missions.