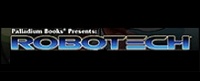 Palladium Games has announced a number of 2013 releases for its Robotech RPG, which is based on the popular 1980s cartoon that was fashioned out of the three science fiction anime series. The most eagerly awaited of the new Robotech games is the Robotech RPG Tactics: Defense of Macross Island game, which is currently slated for the fall of 2013. This deluxe box set game contains dozens of mecha such as Veritech Fighters and Destroids. The Earth mecha will help players defend the planet from the invading Zentraedi. Check back with ICv2 for images of the 1/285th scale miniatures when they become available.
Earlier shipping items in Palladium's
Robotech
line include two sourcebooks that focus on the
UEEF Marines
, their weapons, mecha, aliens, and adventures, the first of which was originally slated for release back in 2010. The first
Robotech UEEF Marines Sourcebook
should be released in June with a second
UEEF Marines Sourcebook
scheduled for release later in the year (see "
'Robotech RPG' Gets Two Titles
").