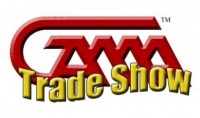 ICv2 caught up with GAMA Executive Director John Ward to talk about the changes planned for this year's GAMA Trade Show, which will be held at Bally's Las Vegas from March 18th to 22nd. Ward discusses the major changes planned for the GTS in 2013 that include upping the number of the show sponsors who will give presentations to 17, expanding the retailer attendance appreciation box, and having publishers and distributors working together to provide retailers with the opportunity to order "show specials."
What's going on with the GAMA Trade Show and what's different about this year?
The biggest things we're going to see are some changes in the manufacturer presentations, doing show specials, and our new manufacturer's track. Those are the three big pushes for the Trade Show this year.
We've had a lot of interest in presenting more manufacturer resources at the show. Larry Roznai at Mayfair Games has been one of the leaders in this program. Larry helped design this. Almost 18 months ago, he and I started speaking about it. He's been outstanding taking the lead with this new program. The idea is to link our manufacturers with more resources during the front end of the show when they're not busy in the exhibit hall.
What's changing about the presentations?
We've just expanded the Premier Presentations again this year. We've had a lot of growth in the show; we're seeing more participants. We've got Wyrd Miniatures joining us this year, Upper Deck, Games Workshop--they're all adding more of those individual sessions to reach out to retailers. And we've got all of our mainstays: Wizards of the Coast is coming back doing an outstanding job; Mayfair Games; Bandai; Cryptozoic; Konami; WizKids; Impressions; Paizo; Fantasy Flight; Catalyst; Osprey; Cool Mini or Not; Privateer Press is coming back to the show this year; Bushiroad and ICv2, of course. We've just got a great list of sponsors.
How many are sponsoring the presentations?
For the presentations, 17. We have a total of 26 sponsors for the show overall.
What's different about the retailer giveaways?
We still have the retailer Appreciation Package, which is a great deal. We realize that the retail store takes a lot of risk when they leave their stores for three to five days to come out to Las Vegas for this kind of a program. The Appreciation Package is back. Alliance has been excellent again with helping us do the fulfillment. One of the things that's going to be different is we have other manufacturers that will be contributing to the box other than just the Premier Presentations. The individual exhibitors from the floor are putting some items in the box this year so I expect it to be bigger than the $1,600 we did last year.
Do you have list of what's going in there?
That list is growing and changing based on what people are marketing for the show. Our deadline for those things is right before Toy Fair.
What's different with the Show Specials?
Unlike a distributor open house, it's a little difficult to do show specials at GTS because we have various distributors and various manufacturers. So this year we're having the manufacturers give us an idea of what they want to do with their show specials and then each of the distributors that's present is putting their system in the hall with an Internet drop so people can make those orders (for the specials) right there at the show. It's really going to be a benefit this year in allowing us to do more orders.

It's primarily for the manufacturers and the retailers who do that business. A lot of them prefer to have their distributing partners handle it. Let's say I'm a company and my product is in distribution in every one of the companies, then what I'll do is "which is my preferred distributor" and as a retailer I will take that form over and drop it off at that distributor's booth.
So the manufacturer helps create the demand that can be fulfilled through the distributor through their regular ordering process?
Absolutely. Some manufacturers do direct specials at the shows, and we'll still support those, but this gives him both options.
Have you got anything new planned for the evenings?
The GAMA dinner is a little bit bigger than last year. That's going to be a nice, fun event. Games Night again on Wednesday night will be a really fun function. Thursday night we'll have the return of the poker tournament. They've created a poker room at Bally's. It's right there at the base of the escalator going up to the south tower.