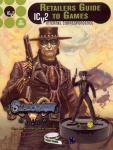 In a print exclusive for its publication the ICv2 Retailers Guide To Games, released this week at the GAMA trade show, ICv2 has analyzed the market size of the major game categories sold in pop culture stores in the U.S.--CCGs, miniature games, specialty board games, and roleplaying games.
While everyone who deals in games is aware of the market shifts and fluctuations as properties blossom and burn out (
Pokemon
) and powerful new categories appear (collectible miniature games), there has been very little information published on the size of the market for CCGs, miniature games, and RPGs.
Some of the key players in the industry are privately-held companies, which don't have to divulge sales, while others are major toy conglomerates, which do provide quarterly sales figures though it often takes some legwork to ferret out exactly what portion of the sales pertains to what category of games.
Over the past several months, ICv2 has been talking to the companies involved to try and get a more complete picture of these markets, and the articles in this magazine are the result. One conclusion is that games from these categories represent a bigger market relative to some other categories sold in pop culture stores
--total sales for CCGs, CMGs, board games, and RPGS are bigger than annual sales of anime and manga combined, and much larger than total comic book sales.
CCGs is the largest single category in the games business, and despite the decline of Pokemon, the market for CCGs is still robust, at around $750 million at retail in 2002, thanks largely to the rise of Yu-Gi-Oh! and the continued strength of the classic Magic brand from Wizards of the Coast.

The rapid development of the Collectible Miniatures Game category created by WizKids has also helped to fuel the market for miniature games, which was probably around $170 million at retail in 2002. The subset of board games carried by pop culture retailers is difficult to quantify, although that market definitely grew substantially in 2002. One of the most surprising findings for us was the relatively small size of the roleplaying game market, at only around $35 million retail.
Thanks to extensive interviews with successful games retailers, ICv2's Retailers Guide also provides key information on 'in-store gaming,' the grass roots method that successful gaming retailers use to generate long-term fan interest and consistent sales. Add to this wealth of practical advice a survey of the top gaming releases for the next three months and you have a publication that can be a useful reference tool with a long shelf life.
Retailers and others interested in the ICv2 Retailers Guide To Games will find information on how to obtain it in our announcement article
article (see 'ICv2 Publishes First Games Guide').