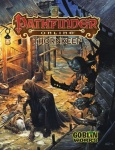 Paizo Publishing has moved the debut of two Pathfinder Online tie-in products, which were originally slated to ship in January to a release date of February 20, which means that orders must be received by January 28th to make sure that the products will be in stores by the street date. The two pen-and-paper supplements support the Pathfinder Online MMO, but can also be used to support any Pathfinder RPG event.
Pathfinder Online: Thornkeep
(MSRP $24.99) is a 96-page, full color softcover sourcebook that includes complete original dungeon levels designed by a veritable "who's who" of RPG designers, while the
Pathfinder Flip Map Thornkeep 2-Pack
(MSRP $24.99) features four Dungeon levels designed by experts and scaled for miniatures that work with the
Pathfinder Online
game, but also saves time in conventional paper-RPG games since no one will have to waste time sketching out the dungeon floor plans (see "
'Pathfinder Online' Tie-In
"). The 96-page
Thornkeep
module includes enough gaming material to advance a character from 1st to 8th level and brings the excitement of the
Pathfinder Online MMO
to conventional tabletop RPGs.