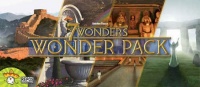 Asmodee will release a new expansion set for its hit game 7 Wonders in April. The Wonder Pack gives players four additional wonders to use in the game.
The four new wonders in the Wonder Pack will be:
• The Great Wall of China, which unlike other Wonders can be built in any order;
• Stonehenge, which has effects that vary based on the amount of stone a player uses;
• Abu Simbel, where a player can mummify Leaders for bonuses; and
• a revised Manneken Pis, originally released as a promo item at Spiel, 2010.
The addition of new wonders is intended to create more variety of play when combined with the basic set. The suggested retail price for the Wonder Pack will be $14.99.