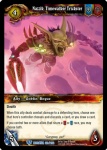 Cryptozoic Entertainment has announced its second Sneak Preview event for a new
World of Warcraft
set, the
Betrayal of the Guardian
Sneak Preview. Events will be held February 16th and 17th for the set, which streets February 22nd (see "
'WoW TCG Set 20: Timewalkers--Betrayal of the Guardian'
").
Players at the events, which will typically cost $30, will compete in a sealed Swiss-style event with single game matches. The number of rounds will be determined by the tournament attendance.
Participants will receive a Nazzik, Timewalker Trickster promo foil card, and the top finishers based on attendance will receive Betrayal of the Guardian Booster Packs.