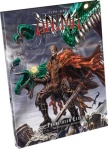 Fantasy Flight Games has announced the upcoming release of Prometheum Exxet: The Supernatural Artifacts, a compendium of supernatural sundries created by Max Brookes for the Anima: Beyond Fantasy Role-Playing Game. The book is full of amazing artifacts including mystic weapons stained with the blood of heroes and incredible machines that surpass reason, along with the stunning handiwork of Gaudemus, the Creator of Wonders, and his mischievous apprentice Nekomusume.
But
Prometheum Exxet
includes more than just descriptions of the powers these artifacts embody, it also contains an exhaustive set of tools for creating new artifacts that Game Masters and players can use to forge legendary weapons of their own for this intriguing RPG, which began as a game based on the fantasy worlds created for Japanese anime and RPGs (see "
'Gaia, Winds of Magic'
").