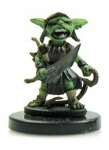 Paizo Publishing has announced that it is teaming up with WizKids to unleash a Goblin horde on Free RPG Day, which will take place this year on June 15th. To support Paizo's Free RPG Day offering, the Pathfinder module We Be Goblins Too!, WizKids will release the Pathfinder Battle Builder Series We Be Goblins Miniatures, a random assortment of twelve pre-painted miniatures that will be sold individually for an MSRP of $2.49. The set contains five new sculpts, including all four pre-generated goblin player characters that appear in both the original Paizo We Be Goblins adventure from 2011 and the new We Be Goblins Too! module that will be given out this year.
The Pathfinder Battle Builder Series We Be Goblins Miniatures are available for order now on the Paizo site and will ship to retailers on May 29th.
While "Free RPG Day" is several orders of magnitude below "Free Comic Book" day in the number of participants, the event appears to be gaining some momentum thanks to the participation of Paizo with its popular Pathfinder RPG and Fantasy Flight Games, which last year gave away the Eleventh Hour, a free adventure for Only War, a new standalone Warhammer 40,000 role-playing game in which players take on the roles of soldiers in the Imperial Guard.