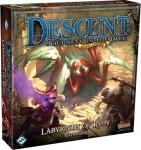 Fantasy Flight Games has announced the Q2 2013 release of
Labyrinth of Ruin
, a major expansion for
Descent: Journeys in the Dark Second Edition
, the semi-cooperative fantasy adventure board game that FFG issued in early 2012 (see "
'Descent: Journeys in the Dark' Second Edition
"), and which was one of the top board games in the hobby market according to ICv2's survey (see "
Top 10 Board Games--Summer 2012
").
Labyrinth of Ruin is a major expansion to the Descent board game. Set in a previously unexplored region of Terrinoth, Labyrinth of Ruin takes players to the evocative ruins of an ancient city and introduces an all-new epic campaign, plus new heroes, new monsters, and new classes.
The comprehensive campaign in Labyrinth of Ruin features nineteen narratively rich quests, which can be enjoyed as stand-alone adventures, but which were also designed with campaign play in mind. The expansion also includes a new Overlord deck that provides an alternative to the core game's fifteen basic Overlord cards.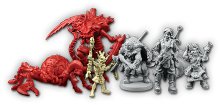 Labyrinth of Ruin
is not a stand-alone game. It requires ownership of the base
Descent
board game in order to play. The deluxe expansion includes a 48-page Rulebook and Quest Guide, 17 detailed miniatures, 2 custom dice, 119 cards, 4 hero sheets, 18 map tiles, and 91 tokens.