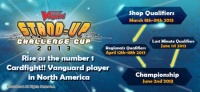 Bushiroad USA has announced the Cardfight!! Vanguard Stand Up Challenge Cup 2013, a three-stage, one-on-one player tournament running from March to June. The tournament is exclusive to North America. Players must participate in store qualifiers for a chance to win invitations to regional qualifiers. With over 270 stores already signed up, only the first and second qualifiers from each qualified store will receive invitations to the regional qualifiers.
All English Cardfight!! Vanguard cards can be used in the tournaments, but no cards in other languages may be utilized. There will be 25 regional qualifiers throughout the United States with one regional qualifier in Canada and one in Mexico. The winner of each regional qualifier will receive an invitation to the Stand Up Challenge Cup finals along with airfare and hotel accommodations. Second place finishers will only receive the invitation to the finals.
The
Stand Up Challenge Cup
finals will take place on June 2nd at a venue to be announced later. A last minute qualifier will be held at the same venue on June 1st.
The Stand Up Challenge Cup
is the latest expansion of the
Cardfight!! Vanguard Organized Play
program, which included a
North American Championship Tournament
last year (see "
750 Compete in 'Vanguard' Tournament
"), and has recently been expanded with sneak preview events (see "
First 'Cardfight!! Vanguard' Sneak Preview Events
").