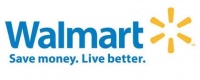 Walmart's 2013 sales are very weak so far, according to internal e-mails and minutes obtained by
Bloomberg
. February to date was described as a "total disaster" by a Walmart exec on February 12, the "worst start to a month" in seven years.
January was also very tough, with one e-mail from a Walmart SVP asking "Where are all the customers? And where's their money?" according to Bloomberg.
Macro reasons are seen as drivers of the sales declines, including tax refunds running behind previous years' due to the delay in the release of tax forms (related to the late fiscal cliff deal) and new tax-fraud scrutiny, and the end of the stimulus payroll tax cut, on top of a weak economy and high unemployment over-all.
Walmart told Bloomberg the leaked e-mails could be "internal communications that are not entirely accurate, that lack the proper context and represent individual opinions." The company will report its most recent quarter, which includes January, later this week.