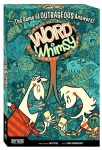 Cryptozoic Entertainment is about to release a new social card game called Word Whimsy.
Cryptozoic COO Scott Gaeta describes Word Whimsy as "a cross between Apples to Apples and Dixit as far as play party pattern. It's a little outrageous as far as content. The content is totally family friendly and PG, but it's like anything when people get rolling..."
The game uses "prompt cards" to set the theme for each round of play, with such things as "Good Name for a Metal Band" or 'Most Likely to Win in a Fight." Players then must build a title or phrase using word cards. One player acts as a referee, awarding points for the best answers.
Word Whimsy comes with 320 game cards, counters, and seven card sleeves for player answers. It is intended for two to seven players ages 15 and up. The suggested retail price will be $29.99.