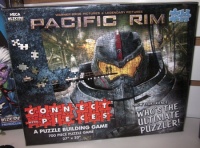 Wizkids continues its licensed game blitz with a slew of new stand-alone games planned for 2013. It has already begun to release a series of Connect with Pieces puzzle games; and a group of new small box "mini games" will release over the next few months. We also obtained some new details on Batman: Gotham City Strategy Game gameplay.
Connect with Pieces is a new puzzle-based game created by Wizkids. Players compete to create images using puzzle pieces with special symbols, earning points for matching symbols during play. WizKids has already released The Lord of the Rings, Twilight Saga: Breaking Dawn Part 2, and The Hobbit versions. New Connect with Pieces sets for Pacific Rim, Nightmare Before Christmas, Catching Fire: The Novel, Star Trek, Kick Ass 2, and Hello Kitty are scheduled to release this summer.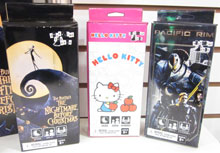 WizKids will release a new
Star Trek
HeroClix
mini-game, scheduled to release next month. This small strategy game includes two
Clix
figures, a small map, and scenario-based gameplay. The figures will have bases that are fully compatible with the
HeroClix
tabletop game. Additional mini-games tied to
Pacific Rim
,
Nightmare Before Christmas
, and
Hello Kitty
will release later in the year.
WizKids also shared some additional information about the gameplay of the
Batman: Gotham City Strategy Game
. The game was announced in October, and will be the first to incorporate the new SwitchClix mechanic (see "
WizKids Introduced 'SwitchClix'
").
"You are playing as one of the four iconic villains—Joker, Penguin, Two-Face, and Killer Croc," Marketing & Product Coordinator Scott D'Agostino told us. "You are vying for control of Gotham City. The more territories you control, the more resources you collect. And the villains will fight with each other. If your villain character is in one of the locations, you automatically control it; but I could move my villain character into the space that you're in, and we would have a fight between our characters.
"Batman is also in play. He's not a playable character, but he's the spoiler. One of the best things about the game is that you can send Batman against someone else and force them to fight Batman. If the villain wins against Batman, then Batman goes back to the Batcave, does a little research, gets a little stronger; so the next time he comes to fight he's even harder to defeat."
Batman: Gotham City Strategy Game includes regular HeroClix bases for the characters in the game, allowing players to swap the bases and also use them in the tabletop game.