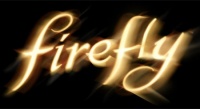 Fan favorite science fiction TV series Firefly will be the setting for a new role-playing game from Margaret Weis Productions, thanks to a license from Twentieth Century Fox Consumer Products. MWP plans to produce a series of tabletop pen-and-paper roleplaying games in both print and digital editions.
The short-running television series Firefly followed the adventures of the captain and crew of the spaceship Serenity. The new role-playing game will be based on the characters and settings of the program. The game system will be built using MWP's own Cortex Plus system, which is also used in its Marvel Heroic Roleplaying Game and Leverage: The Roleplaying Game.
MWP's President Margaret Weis was enthusiastic about the new project. In a press release announcing the license, she stated "This project is a dream come true for me. I have been such a long-time fan of Firefly! I look forward to working with my crew to take us all back out into the Black!"
In 2005, MWP produced a Serenity role-playing game based on the movie that was spun-off from the Firefly television program and featuring an earlier version of the Cortex system. As the Serenity license was acquired through the film producer Universal Studios, it did not extend to include material from Fox's television series. The Serenity game is no longer in production.