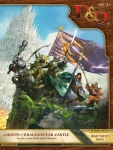 Wizards of the Coast will release
Ghosts of Dragonspear Castle
, an exclusive
D&D Next
preview and mini-campaign, at Gen Con. Fans pre-ordering the $29.95 book will also receive a
Dungeons & Dragons
miniature from Gale Force Nine, which is producing a line of the minis (see "
'Dungeons & Dragons' Miniatures
"). The product will only be available to Gen Con attendees.
Wizards will not have a presence on the Gen Con exhibit floor; copies of the special
D&D Next
preview will be available only at the Gale Force Nine booth.
Asked why it is not on the exhibit floor this year, a Wizards of the Coast spokesperson said, "As we continue to focus on creating great play experiences, Wizards has collaborated with GenCon to create a strategy for this year's show that provides great branded play experiences for our players and fans." It remains a co-sponsor of the show, and will have a full slate of
Magic: The Gathering
and
Kaijudo
events, as well as its
D&D
events.
Ghosts of Dragonspear Castle
will include four adventures, pre-generated characters, game rules that will allow advancing those characters up to level 10, monster statistics, spell descriptions, magic item descriptions, and info on Daggerford, where the campaign is based.
Organized play for
D&D Next
will include up to four debut adventures using the playtest rules. A D&D Open Championship using
D&D 4th Edition
rules will also be held.
On Thursday night, a
D&D Next
event with players, fans, designers, authors, and other industry luminaries will be held. Last year, a
D&D Next
keynote was held on Thursday night (see "
The 'D&D Next' Keynote
").