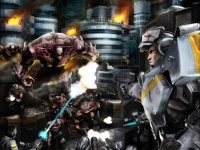 Mantic Games has another highly successful Kickstarter campaign for a new project:
Deadzone
, Mantic's sci-fi skirmish - scale miniatures game, attracted over $1.2 million in pledges from more than 4,000 backers -well over its goal of only $50,000.
Deadzone
is a two-player combat game using miniatures on a 3D battlefield, designed by industry veteran Jake Thornton. Set in the far future, the game pits teams of elite troopers from four different factions against each other.
The response received by
Deadzone
makes it the sixth highest-funded tabletop game project on Kickstarter, as well as the sixth such project to collect over a million dollars worth of pledged support (see "
Top Ten Tabletop Game Kickstarters
"). Mantic expects to deliver the game in December.
Like most miniatures games, the core of
Deadzone
is the game rulebook. Players assemble their own armies by selecting from faction starter sets and add-on boosters, each composed of unpainted plastic models. The game scenery is available separately, with a variety of terrain sets planned, also supplied unpainted.
Mantic's earlier title, the football-like
Dreadball
(also designed by Jake Thornton), collected over $700,000 in pledged support (see "
'Dreadball'
"). Mantic has also announced plans to produce a miniature-based tabletop game based on a
Mars Attacks
license (see "
'Mars Attacks' War-Game'
").