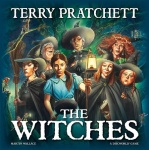 Mayfair Games will release Martin Wallace's
The Witches
, a
Discworld
board game, in the U.S. in October.
The Witches
is the second Discworld game designed by Martin Wallace, after 2011's
Discworld: Ankh-Morpork
. The board games are based on characters and events in the fantasy universe of the bestselling
Discworld
book series by Terry Pratchett, with game artwork by Peter Dennis.
In
The Witches
, players take on the role of trainee witches, learning their craft and tackling whatever pun-related problems daily life in Discworld provides. Players are aided by well-known characters (Granny Weatherwax, Nanny Ogg and Magrat Garlick among others) along the way.
The game is billed as a more 'family friendly' and cooperative than
Ankh-Morpork
. The game is for up to four players, or can actually be played as a solitary quest. The game plays in about 60 minutes, and carries an MSRP of $50.00.