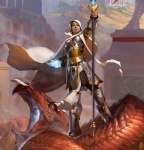 Wizards of the Coast will release
Magic: The Gathering--Theros
, the first set in a planned three set block, on September 27, 2013.
The Theros block focuses on Greek mythology and the "Hero's Path." A player must first choose a specific path related to one of the five colors of
Magic.
From there the Hero must undertake quests (nine in all, three per set) and "level up" as they progress. The 249-card set contains new Hero Cards, which will not be used for pre-release, but collected to prepare for the battle at the end of the set's Hero's Path arc.
The cards will be available in
Booster Packs
,
Intro Packs
,
Event Decks
, and
Fat Packs
.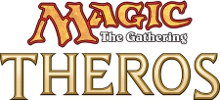 The normal Wizards of the Coast program of events to support the new release are planned. Pre-release events will occur on September 21 and 22. A Pro Tour event is planned for October 11-13, and a Game Day on October 19-20.
The second set in the
Theros
block is
Born of the Gods
, releasing in February 2014; and the third set will be
Journey Into Nyx
, releasing in May 2014.