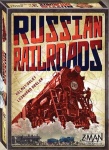 Z-Man Games has announced plans to release
Russian Railroads,
a board game where players race to build the largest and most advanced railway network.
In
Russian Railroads,
players use planning and strategy to quickly build the largest railway, but modernization of the railway network comes into play as well. Players much use their workers to complete various important tasks in order to improve efficiency and churn out newer locomotives at their factories to cover greater distances in less time.
The game box contains a game board, four player boards, 127 tokens and 23 cards. The game is for players ages 13 and up, for two to four players, and average game play is 90 – 120 minutes. MSRP is set at $59.99. According to Z-Man, the game will premiering at Essen in October, but no specific stateside release date has been announced.