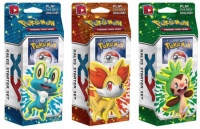 The Pokemon Company International plans to follow-up the
Pokemon X
and
Pokemon Y
video games and the launch of the new anime, both scheduled for October (see "
'Pokemon X and Y' Gains Momentum
"), with the
Pokemon TCG: XY--Kalos Starter Set
. The new starter set will hit the streets on November 8th.
This set introduces the new "Fairy-type" Pokemon and "Basic Fairy Energy" to the card game. This will be the first new creature type added to the game since Dragons were added in 2012.
Three different versions of the
Kalos Starter Set
will be available. Each 60-card set features a new Pokemon character: Chespin, Fennekin, or Froakie. Other characters from the "Kalos Region" will also appear in the decks.
The
Pokemon TCG: XY
expansion will be released February 5, 2014 in booster pack format.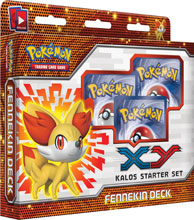 Standard and deluxe versions of the new set will be available. The deluxe version
Kalos Starter Set
will also include one
Pokemon TCG: Black & White
booster pack. Both types of starter (and the up-coming booster packs) will include code cards to access virtual cards for the online version of the game.
The release date for the
Kalos Starter Set
is only two days after the announced November 6th release date for
Legendary Treasures,
presumably the last
Black and White
set (see "
'Legendary Treasures'
").