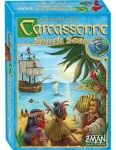 Z-Man Games will release a new stand-alone Carcassonne game,
Carcassonne – South Seas,
at
Spiel
in Essen in October, with U.S. release to follow.
Carcassonne – South Seas
is for 2 to 6 players, ages 8 and up, and plays in about 35 minutes. The box contains 73 Land tiles, 24 Ship tokens, 19 Fishing Boat tokens, 60 wooden Ware tokens, 20 wooden Islanders, and a rulebook. MSRP is set at $34.99.
Set in the inter-connected tropical islands of the South Seas, this variation of the
Carcassonne
game, designed by Klaus-Jürgen Wrede, focuses on collecting tropical resources (fish, bananas, shells) and supplying them to merchant trader ships. Players take turns placing land tiles on the board, creating Bridges, Islands, Sea Regions and Markets. The players then place their Islanders strategically to collect various Wares, the goal being to deliver the Wares to a Ship in order to score points. Once all the Land tiles have been places, or all the Ships have been supplied, the game is over and the player with the most points earns the title King of the South Seas.
Z-man has had a slew of new releases announced for Speil already (see "
'Russian Railroads'
" and "
Z-Man Announces 'Blueprints'
" and "
'Glass Road' by 'Agricola' Designer
" and "
'Ricochet Robots' Returns
").