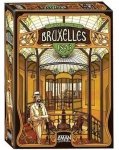 Z-Man Games, in conjunction with Belgian game company Pearl Games, has announced the board game
Bruxelles 1893
, which premieres in Essen in October, with US release to follow.
The game is for 2 to 5 players, ages 13 and up, and plays in about 25 - 40 minutes. The game box contains 30 Building tiles, 23 Public Figure cards, 25 Bonus cards, 12 Stock Exchange cards, 1 Bracket tile, Workshop cursor, 6 Compass tiles, 2 "needles," 35 Assistant pawns, 20 discs, 30 Works of Art, 5 Exhibition turn-counting tiles, 76 coins, 30 Noble Materials, 1 Manneken Pis pawn, 5 Action strips, 1 Bonus strip, 5 Personal Architect boards, the Brussels gameboard and a rulebook. MSRP is set at $64.99.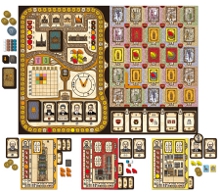 The first design by newcomer Etienne Espreman,
Bruxelles 1893
is a worker placement game with elements of bidding and majority control. Set in the Belgian capital in the late 19th century, players take the role of architects trying to achieve an architectural work in the Art Nouveau style (very attractive period-correct art for the game is by Alexandre Roche). Because the action board is modular, not every player will have access to each action on each turn, which adds elements of strategy and chance. The goal is to create the most successful building which yields the most victory points, but creating works of art along the way can also score points. The architect with the most victory points after four rounds wins.