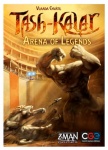 Z-Man Games, in partnership with Czech Games Edition, announced another board game for its ever-growing list of Spiel premieres: Tash-Kalar: Arena of Legends.

Designed by Vlaada Chvatil (Dungeon Lords, Galaxy Trucker) with art by David Cochard, Tash-Kalar is a game for two to four players, who take the roll of master magic summoners (in teams or individually) out to prove their skill and strategy in a short, intense arena battle. Minion pieces are placed on the board, creating magic patterns to summon powerful beings (depicted on the deck of cards assigned to each of three different factions). The summoned beings are sent to destroy their opponent's forces.

The game features two game modes: standard and melee. In standard form, points are scored for fulfilling various quests from the Arena Masters (controlling certain areas on the board, destroying a certain number of enemy pieces on one turn, performing a specific combination of actions). Melee mode's only goal is to entertain the crowd by destroying opponents and making them beg for mercy.
The box contains 84 Being Cards, 24 Task Cards , 12 Flare Cards, 68 Double-Sided Cardboard Pieces, 12 Legendary Cardboard pieces, 4 Double-Sided Score Boards, a Double-Sided Game Arena and a rulebook. MSRP is set at $64.99. The game will release in January.
This week alone Z-Man has announced Bruxelles 1893 and Carcassonne – South Seas for Speil debut(see "Z-Man's 'Bruxelles 1893'" and "'Carcassonne--South Seas'"). Those join the ever-growing Fall list that includes four other releases (see "'Russian Railroads'" and "Z-Man Announces 'Blueprints'" and "'Glass Road' by 'Agricola' Designer" and "'Ricochet Robots' Returns").