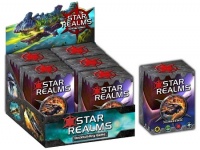 White Wizard Games plans to release
Star Realms,
a fast-paced, deck building card game of outer space combat, to trade in December after a final Kickstarter push.
White Wizard Games was formed by
Magic: The Gathering
Hall of Famers Darwin Kastle and Rob Dougherty. Veteran designer Dougherty was a developer of the
Ascension
deckbuilding game (see "
New Company Plans Deckbuilding Game
") as well as the owner/designer of the
Epic TCG
(see "
'Epic TCG' Owner Interview
").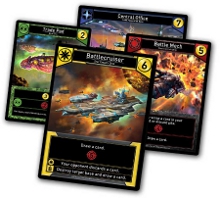 Star Realms
combines the spontaneity and portability of a deck building game with the interactivity of fast TCG-style combat, and features highly detailed original art. The deck is for two players, but multiple decks can be combined for multi-player battles. The gameplay centers around four factions (three human: Machine Cult,Star Empire, Trade Federation; and, one alien: the Blobs) vying for control of known space. Players use Trade to acquire new and more powerful Ships and Bases (based on your faction) from their Trade Deck. Players can then use those Ships and Bases to either generate more Trade or, conversely, Combat, to attack opponents and destroy their bases. When a player's score (Authority) is reduced to zero, they lose.
The deck consists of an 80 card Trade Deck, two 10 card personal decks, 10 explorer cards, 18 double-sided Authority cards for keeping score and a rule sheet. MSRP is set at $14.95. White Wizard Games plans to support the trade release with promo cards and tournament kits (which will feature exclusive play mats), Dougherty told
ICv2
.
The Kickstarter page states the Kickstarter is "to pay for the printing of the physical game and the coding and programming of the digital version," since design, development, artwork and graphic design are complete. The Kickstarter runs through November 2nd.