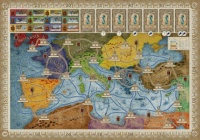 ICv2 has learned that Rio Grande Games plans to release an English language version of Mac Gerdts
Concordia,
a highly competitive economic board game set during the glory days of the Roman Empire. Designed for 2-5 players, the Euro-style board game is pretty simple to learn with just four pages of rules, and takes about 100 minutes to play.
Players each head powerful Roman families who send colonists out to other cities of the Roman Empire to produce key economic items such as food, wine, clothes, and tools. While there are no wars or military conquests involved, this game is highly competitive as players compete to gather cards to gain Victory Points. This is a highly strategic game where players not only have to have a well-developed plan of their own, but also have to keep an eye on what their competitors are doing.
No two games will ever be the same since the key action cards will be shuffled between games, and because of the modular nature of the game board. One side of the board shows the entire Roman Empire with 30 cities for 3-5 players, while the other features just the Italian peninsula with 25 Roman cities for 2-4 players.
The elaborate
Concordia
board game includes 190 wooden pieces (75 houses, 15 sea colonists, 15 land colonists, 5 scoring markers, and 80 individually shaped units of goods), 72 cards (65 personality cards, 5 player aids, 1 Concordia, and 1 Praefectus Magnus card), plus numerous cardboard pieces (5 storehouses, 30 city tokens, 24 bonus marker, and coins), plus a two-sided game board, rule book, and historical information booklet.