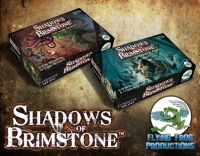 Flying Frog's
Shadows of Brimstone
Kicksarter has raised $1,341,305 in a funding period that ended Sunday. The high concept game, a cooperative western horror dungeon-crawl board game (see "
'Shadows of Brimstone'
"), hit enough hot spots to appeal to a wide range of backers (over 4,700).
Shadows of Brimstone
is Flying Frog's first Kickstarter project.
The performance is strong enough to put it into the top ten tabletop game Kickstarters of all time (see "
Top 10 Tabletop Game Kickstarters
").
Backer shipments are promised for August, implying a Gen Con release.