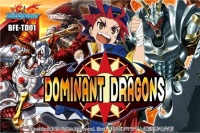 Bushiroad has launched consumer marketing, in the form of a Website and Facebook page, behind its upcoming January launch of
Future Card Buddyfight
, its new TCG (see "
'Future Card Buddyfight'
"). The new game is directed at somewhat younger players than Bushiroad's other TCGs, and the company hopes to attract a new cadre of consumers for
Buddyfight
(see "
Interview with Bushiroad CEO
").
The three products planned for January kick off with two
Trial Decks
on January 24th.
Dominant Dragon
s, which is the trial deck for main hero Gao Mikadol, features 52 cards made up of 17 types and two foil cards, life counter, rule book, and playmat. Gao Mikadol will battle together with the dragon warriors of Dragon World.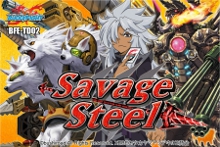 The other
Trial Deck
that ships January 24th is
Savage Steel
, in which a rival of the hero, Rouga Ragami, ride with monster knights of Danger World. This is the same deck that Rouga uses in the animation. The configuration is the same as
Dominant Dragons
.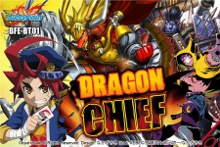 On January 31st, the first booster,
Dragon Chief
, will ship with cards that enhance the
Trial Decks
. It includes new cards, items, and spells for Dragon World, Danger World, and Magic World. There are 105 types of cards (BR:1/ RRR: 8/ RR: 12/ R: 24/UC: 30/ C: 30), inclusive of SP: 12 (Parallel). One card of the five in every pack will be "R" or above.