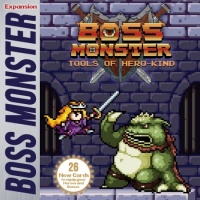 Brotherwise Games will release
Tools of Hero-Kind
, a new mini-expansion for its 8-Bit-style card game
Boss Monster,
on February 5, 2014. The first two printings of the core game sold out at the distributor level within days of release, and the third printing has shipped. Brotherwise told ICV2 that they have shipped over 17,000 units to distribution, of the over 22,000 copies in print.
Tools of Hero-Kind
will introduce the new Items card type to the game. Items can make those pesky dungeon-invading heroes more of a threat, but they also offer Boss Monsters new tactical options. The set will include 20 Item cards, 4 Advanced Room cards, and 2 Spell cards. MSRP is set at 9.95. As it is an expansion, it requires the
Boss Monster
set to play. The game is for 2 – 4 players, ages 13 and up, and plays in about 20 minutes.
Boss Monster
was launched via Kickstarter in November 2012 (see "
'Boss Monster' Card Game
") and raised $215,056 from 4,689 backs ($45.86 average per backer). However, after initial fulfillment and launch in July of this year, Brotherwise took a long-term approach, focusing on normal distribution channels and building relationships within the hobby market (see "
Rolling for Initiative--Kickstarter and the 'Boss Monster'
").
In addition to the
Tools of Hero-Kind
mini-expansion, there is a full expansion planned for the future (code-named
Boss Monster 2
) but the website says "we will not announce a release date until we are further along in development."