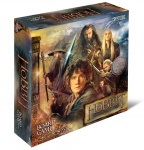 Cryptozoic will release
The Hobbit: The Desolation of Smaug Board Game
on December 20th, a week after the movie premieres in theaters (see "
Third 'Desolation of Smaug' Trailer
").
Like Crypto's first
Hobbit
movie board game (see "
'The Hobbit: An Unexpected Journey Board Game'
"), this game is designed by Reiner Knizia. The game is stand-alone, but can be combined with the
Unexpected Journey
game. Players must work cooperatively as they travel to the gold-filled caverns of Lonely Mountain in search of treasure and the courage to defeat Smaug. The game is for 1 – 4 players, ages 15 and up, and plays in 30 – 45 minutes. MSRP is set at $40.00.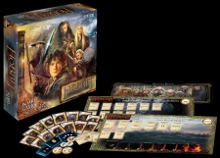 The box contains 2 game boards, a resource board, 4 cheat sheets, tiles, cards, custom dice, markers, a dragon pawn and a rulebook.
Cryptozoic also updated release dates for several of their other Middle Earth related titles.
The Hobbit: An Unexpected Journey Deck-Building Game
and
The Lord of the Rings: Return of the King Deck-Building Game
are now Q1 2014 releases, and
The Middle Earth Expandable Card Game: The Lord of the Rings: The Fellowship of the Ring Edition Starter Set and Expansions
will also release early next year (see "
'Hobbit,' 'LotR' Card Games
" and "
Six 'Hobbit' and 'LOTR' Games
").