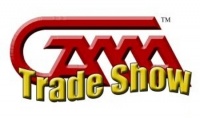 The 2014 GAMA Trade Show will be held in Las Vegas on March 17 to March 21, the organization announced. Bally's Las Vegas will be the venue. The Trade Show will bring together member retailers, distributors, publishers and vendors.
The 2013 show had over 280 unique stores attend (see "
Over 1000 at GAMA Trade Show
"), making it the largest professional event in the gaming industry. This year, GAMA promises more sponsors, more exhibitors and more content, including "The Box" that each unique retail store will receive (delivered to the store), containing over $1500 in new product. There will be retailing seminars, manufacturer seminars, premier retailer/manufacturer presentations, and over 110 exhibitors in the Exhibit Hall. For information on improvements made to the Trade Show in 2013 see "
John Ward on Changes at The GAMA Trade Show in 2013
".
This year's sponsors include Wizards of the Coast, Mayfair Games, Cryptozoic Entertainment, Konami, Paizo Publishing, Games Workshop, Upper Deck, Impressions, WizKids, PSI, Wyrd Miniatures, Bushiroad, Fantasy Flight Games, Queen Games, Catalyst Labs, Iello, Steve Jackson Games, Japanime, Global Games, Privateer Press, and
ICv2
.