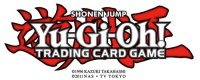 Konami plans to release two new boosters for the
Yu-Gi-Oh!
TCG this spring:
Yu-Gi-Oh! Premium Gold
will release on March 28, and
Yu-Gi-Oh! Dragons of Legend
will release on April 25th.
The
Premium Gold
booster takes the best cards from the past
Gold Series
sets and adds new cards to the mix, as well as introducing the new "Gold Secret" card rarity.
"Gold Rare" cards, which "enshrine" the cards in a gold color (gold card frames, gold art boxes frames, gold text box frames, card names and even gold level stars for Monster cards), have been available in a number of hobby exclusive Gold products in the past (see, most recently, "
'YGO Gold Series' Cards Announced
"). The new "Gold Secrets" cards include all those upgrades and add a Secret Rare Card's textured foil pattern on top of it. Each 5-card "Premium Gold" mini-pack contains two "Gold Secrets" (either a brand new card, or one of the Legendary Gold Cards from the original
Yu-Gi-Oh!
series). Each mini-pack also contains three standard "Gold Rares" (one card a never-before released Gold Rare, plus two past "Gold Series" cards).
Each
Premium Gold
box contains three mini-packs (for a total of 15 cards: six "Gold Secrets" and nine "Gold Rares"). MSRP is set at $14.99.
The final name and release date are still tentative, but Konami has also posted information on the
Dragons of Legend
booster, which it plans to release in April.
Dragons of Legend
will include dozens of the most popular and fan-requested cards that have been used by duelists on the shows (including the original
Yu-Gi-Oh!
TV series,
Yu-Gi-Oh! GX
,
Yu-Gi-Oh! 5D's
, and
Yu-Gi-Oh! Zexal
)--all in print for the first time ever. The 5-card packs will contain one "Secret Rare" and four "Super Rare" cards. MSRP for the packs is $3.99.
The
Premium Gold
booster will follow the
Cyber Dragon Revolution Structure Deck
and the
Star Pack 2
which release in February (see "
'Yu-Gi-Oh!' Structure Deck, Star Pack
").