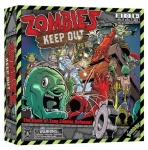 Zombies continue their shambling way through the game hobby, this time providing the menace for the latest "Goblin Bodger" game from Privateer Press.
Zombies Keep Out
is a cooperative game scheduled to release in April, 2014, and will be supported by a new organized play program run by Privateer Press.
To support the new title, Privateer Press will be organizing a series of pre-release promotions, game demos and special events, as well as convention appearances.
In
Zombies Keep Out
, one to six players assume the role of goblin "bodgers" or inventers trapped in their laboratory by an endless horde of zombies. In order to keep the undead at bay, the goblins must work together to build ridiculous contraptions as quickly as possible. If a player's goblin should be bitten, the player is required to speak with moans and groans, eventually losing the ability to speak entirely.
In the announcement, Privateer Press Director of Business William Shick described the game thusly: "
Zombies Keep Out
takes the zaniness of the Goblin Bodgers and pits it against the frantic desperation of a zombie invasion, and the results are non-shtop uuuhhhhnnnng."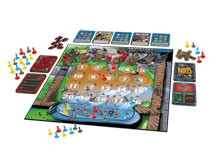 Zombies Keep Out
will include 45 plastic zombie miniatures and 100 game cards. The suggested retail price for the game will be $35.99.
Zombies Keep Out
will be the fifth in Privateer's line of humor-themed Goblin Bodger Games, following
Infernal Contraption
,
Scrappers
,
Heap
, and
Bodger Mania
. All Goblin Bodger games are stand-alone games.