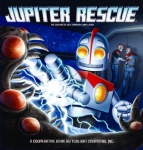 Twilight Creations has announced two board games releasing in the first half of 2014.
Cthulhu!!! Hastur la Vista, Baby!
will release in February, followed by
Jupiter Rescue
in April.
Designed by Mark Major, in
Jupiter Rescue
players take the role of rescue robots, launched into space to help the humans at the Jupiter Deep colony escape the "creeps," an alien race that eats humans and multiplies out of control. Players work cooperatively to evacuate the colonists before they are converted into alien "creeps." The game is for 2 – 7 players, and takes 30 – 60 minutes to play.
The box contains 20 double-sided module tiles, 1 evacuation pod tile, 4 reference cards, 36 rescue cards, a six-sided die, and 127 plastic figures (7 player robots, 50 colonists, 60 creeps, 10 super creeps). MSRP is $49.99.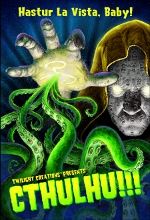 Set in the 1920s seaside town of Kingsport,
Cthulhu!!! Hastur la Vista, Baby!
pits players against the Cult of Hastur in the roles of investigators with some experience in mythos busting, which makes them a little mad already. Players must work semi-cooperatively to find and sanctify ritual sites against the cult, while competing for control of relics and trying to maintain their own sanity while competing for ultimate power.
The box contains 20 tiles, 50 cards, 50 Byakhee, 50 cultists, 3 private detectives, 3 girl Fridays, Hastur, various tokens. The game is for 2 – 6 players, no age limits or game length information was included. MSRP is set at $34.99
Zombies!!!: Deadtime Stories,
another early 2014 game already announced by Twilight Creations, will release in March ( see "
'Zombies!!!: Deadtime Stories'
").