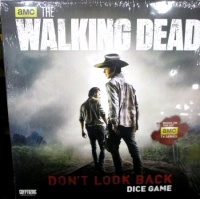 Cryptozoic Entertainment showcased several upcoming game releases for 2014 and announced a new licensing deal for the Fox TV series
Sleepy Hollow
at Toy Fair, in addition to its announcements for the
DC Deck-Building Game
and new
Adventure Time
products (see "
'DC Deck-Building' Expansion and New Game
" and "
Cryptozoic 'Adventure Time' Releases
").
In August, Cryptozoic will release the
The Walking Dead: Don't Look Back Dice Game.
Details on the competitive dice game were not released, but MSRP is tentatively $20.00.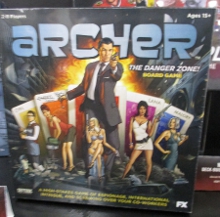 April will see the release of
Archer: The Danger Zone! Board Game
. Based on the FX animated comedy series (see "
'Archer: The Game'
"), the game is billed as "a high-stakes game of espionage, international intrigue, and screwing over your co-workers." The goal is to be the first player to get 20 Upper Hand cards, by insulting opponents, doing well on missions, and encountering guest stars and secondary characters from the show.
The box contains 6 oversized location tiles, 8 oversized character cards, 8 character decks (20 cards each), 8 sets of 7 character tokens, 25 event cards, 52 challenge cards, an oversized scoring track tile, an initiative token, a mission leader token, 3 dice and a rulebook. The game is for 2 – 8 players, ages 15 and up, and plays in 30 – 45 minutes. MSRP is $40.00.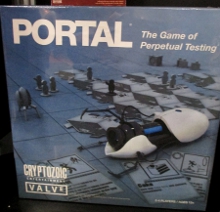 The
Portal Board Game
, based on the Valve Corporation video game property, is planned for October. "It's a big box game, lots of miniatures," said Scott Gaeta, Cryptozoic COO. "There will be little turrets in there. And cake!" MSRP is tentatively $45.00.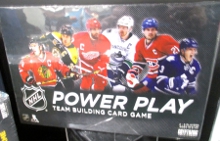 The
NHL Power Play Team Building Card Game
is also planned for October release. "A gamer would know it as a deck building game, but for the sports market, it's more about team-building and drafting," Gaeta said. MSRP is tentatively $40.00.
Cryptozoic has also secured a license to produce trading cards, novelties and gift items for Fox's supernatural/police drama series
Sleepy Hollow
. The show, which is a modern-day retelling of Washington Irving's
The Legend of Sleepy Hollow
, just completed its first season, and will return for a second in the fall.