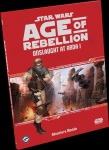 Fantasy Flight Games will release the
Star Wars Age of Rebellion RPG: Onslaught at Arda I
adventure supplement for its popular roleplaying game in July.
This is the first full-length adventure book for the
Star Wars
RPG line. The 96-page adventure follows an Imperial raid on a secret Rebel base on Arda I, where a group of new recruits must defend the base long enough for their leaders to uncover clues as to who the traitor is who betrayed the Rebels to the Empire. Then adventurers must follow the traitor and retrieve information before it is passed on to the Imperial Intelligence Service. The book also contains new adversary and vehicle profiles plus mass-combat rules for GMs; and a gazetteer covers the locations in depth. MSRP is $29.95.