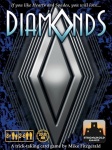 Stronghold Games announced plans to release
Diamonds
, a trick-taking card game, in August or September, with a Gen Con premiere. The game will be the first in Stronghold's new small box "Pocket Line" of games.
Designed by Mike Fitzgerald (
Mystery Rummy
series
, Wyvren, Pokemon
consultant), the card game has players collecting Diamonds, not cards bearing that suit, but actual acrylic "Diamond Crystal" tokens, as they take tricks in card play. When players can't follow suit in the game, they get a "Suit Action" depending on what suit they do play. The Suit Action also affects the winner of the trick, as well as having effects on the end of a full round of play. The goal is for players to acquire Diamond Crystals from the general supply and move them to their showroom (worth 1 point) or to their vault (worth 2 points). The showroom crystals are vulnerable to theft by other players, while the vault is secure.
The game comes with 135 Diamond Crystals (in 2 sizes and colors), 6 player vaults, 6 player aid cards, and a deck of 60 playing cards (numbered 1 – 15 in standard suits). The cards have Art Deco illustration, and are printed with metallic gold and silver inks. The game is for 2 – 6 players, ages 8 and up, and plays in 20 – 30 minutes. MSRP is $24.95.