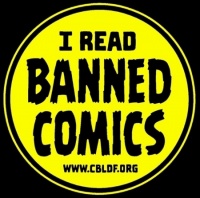 The Comic Book Legal Defense Fund (CBLDF) and the national Banned Books Week planning committee announced that Banned Books Week 2014 will include a thematic focus on comics and graphic novels.
The Banned Books Week campaign, which this year will be Sept. 21 – 27, was founded in 1982 by First Amendment and library activist Judith Krug. "This year we spotlight graphic novels because, despite their serious literary merit and popularity as a genre, they are often subject to censorship," said Judith Platt, who is chair of the Banned Books Week National Committee.
Last year's American Library Association (ALA) list of Top Ten Most Frequently Challenged Books included two comic/graphic novel related titles:
Captain Underpants
(series) by Dav Pilkey (#1) and
Bone
(series) by Jeff Smith (#10). With the recent media attention over
Fun Home
by Alison Bechdel being used as a touchstone to cut funding to the College at Charleston, South Carolina by the state House of Representatives, that book will also undoubtedly join the list this year.
"The CBLDF is pleased to be a part of the coalition that makes Banned Books Week such a vital time to celebrate the freedom to read," said Charles Brownstein, CBLDF Executive Director. "It's shocking that books are still banned and challenged. Comics are especially vulnerable to those challenges. With this year's Banned Books Week focus, we welcome the opportunity to engage the public in a vital dialogue about intellectual freedom and the powerful role comics serve."
Banned Books Week encourages librarians, retailers and readers to participate by putting up displays and engaging in community activities designed to raise awareness of the censorship threats.