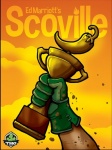 Tasty Minstrel Games will release the pepper farming game
Scoville
in November.
The set-collection game, designed by Ed Marriot, has players take the roll of farmers, hired by the town of Scoville, where the citizens are wild for hot peppers--the hotter the better. The goal is to cross-breed hotter and hotter peppers for the townsfolk's recipes. Player order every round is determined by a blind auction, then players plant, harvest and fulfill orders as they move their pawns through the field harvesting peppers. Since the game depends on cross-breeding different color peppers (represented by wooden tokens), TMG has made sure each color pepper token has a different width for easy identification by color-blind players.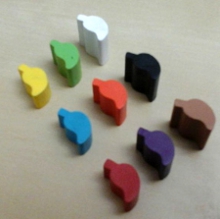 The game is for 2-6 players, ages 13 and up, and plays in 60 -90 minutes. MSRP is $60.00.
The game was funded on Kickstarter in February, raising $106,002 from 2,434 backers ($43.55/average per backer).